SIM Cards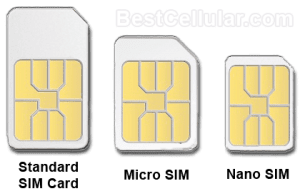 Most newer Sprint & Verizon 4G phones cellphones require SIM cards to be activated. GSM devices like AT&T or T-Mobile handsets require a SIM Card to activate (even if they're an older 3G model). We sell SIM Cards for CDMA, GSM-A, GSM-T or PCS phones. Activate your phone with a SIM card. We will send it next day! Some phones require a card to be cut before inserting it. Tell your customer service rep what type of phone you plan to put the card in. We can trim your SIM to fit before mailing it.
Buy SIM Cards Online
Buy a SIM Card online. Our reps will help you activate a new number or port your existing phone number to Best Cellular from another company. Activate your phone! All you need is a SIM Card and a monthly plan! If you aren't sure which card you need to purchase, please contact us and we can help you determine which SIM Cards you need for your specific phone and wireless network!