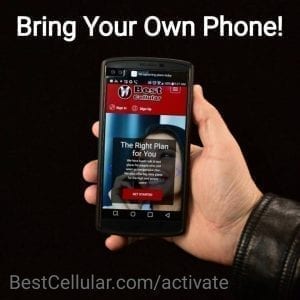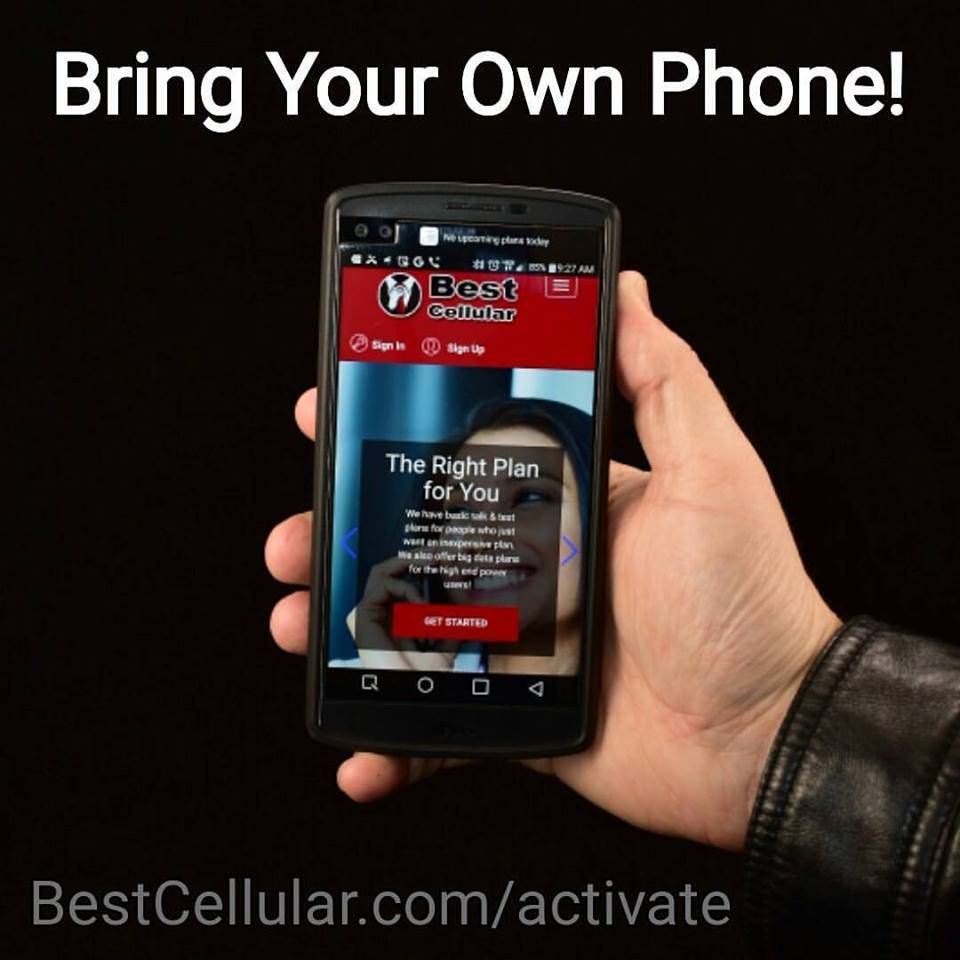 Online Activation – Bring Your Own Phone (BYOP) Allowed!
Activate this phone you have or you can buy a new phone to activate online as well. Before we continue, be sure to have your current information handy. We make it simple to activate your phone service online today, even if you don't know how to activate a phone yet. Have you asked yourself, "Can I learn how to activate a phone"? Yes, you can. We can help if you want!
We understand how scary it can seem trying to get your new service up and running. Before we get started, let's answer a few common questions we hear the most.
Will I know how to activate my new phone?
Best Cellular makes online phone activation simple. The easy step-by-step process will help you with your phone activation. Activate your own phone online or let us help you!
Is there a number to call to activate my phone?
Call our customer service number to learn how to activate a phone. We're always happy to help with your phone activation. Call 970-549-2378 and one of our trained staff members will be happy to assist you. Just simply ask them to help you activate this phone and within minutes you will be able to use your new service.
Is it hard to activate a new phone if it is from another company?
We allow BYOD phone activation so activating a new phone or activating an old phone is simple with our online activation process. If you want to port your number over from an old carrier, the activation process may take a while longer. but it can definitely be done so you can keep your phone number!
Now, let's move on with more information on activating your phone online.
Can I activate my phone online or will I need help?
Activating your device with Best Cellular is easy with our simple-to-use activation portal. We understand the bond people have with their cellphone which is why we go above and beyond making it possible for bringing your own device over to our prepaid network.
It doesn't matter what carrier you were with, you can bring any phone from almost every carrier over to our service where you will get quality service, with NO credit check, NO contract and NEVER any hidden fees.
We don't have pushy salespeople trying to get you to buy a new phone. We applaud you for having the perfect phone just for you. If you think you may want to update your phone, we can help you with this as well.
Be sure to check out the "locate" tab on our website to find a dealer close to you. It's simple to do, all you need to do is enter your zip code and let us do the rest. If you are more comfortable talking with a dealer in person, then by all means, meet the staff and let them get you up and running.
If you live near a Best Cellular dealer, keep your business local! Our dealers offer the following:
BYOD wireless activations
Free phone activation
Help in buying SIM cards
Set up new service designed just for you.
If you require a new phone, most dealers have lots of great phones in stock! This section of the site is for customers looking to activate your phone online.
How to Activate a Phone – Activate My Phone
Are you ready to activate your device and start enjoying the clear quality service of Best Cellular? Our online activation portal makes its simple for anyone to use. With you bringing your own phone and using our system that will walk you through step-by-step will have you up and talking in minutes.
Can I Save My Contacts and Pictures before transferring?
Yes, you can! Switching to a better carrier won't change any settings on your phone. The phone doesn't need to be flashed and activating with Best Cellular. It doesn't make any difference or delete data from the phone. We make it simple!
Just follow the simple steps below. Be sure you have your SIM card inserted with the power on BEFORE you do your online activation.
Ordered Online?
If you chose to upgrade your phone with one of our phones we sell in our online store, you would need to activate your new service once you receive your package containing the phone and SIM card.
Didn't purchase directly from Best Cellular?
If you bought a Cell phone through a different business, follow the steps below on activation. Activating your cellular device with Best Cellular is the best decision you could have made for better quality no matter where you travel through the U.S. Our team of professionals has training on how to activate phones from any carrier.
Anyone with basic computer skills can activate a phone online from the comfort of home. You can Keep your number or get a new one. Our online phone activation portal gives you a choice. If you need any assistance with your phone activation, we offer free 24/7 customer service to teach you how to activate a phone.
Just like with our stellar cell service, we strive to make life simple for our clients through our website. Secure purchases, easy transferring, and congratulating you for choosing the Best Cellular service for all the U.S.
Can I Keep My Phone Number?
Absolutely! You are welcomed to keep your existing number, or we can provide you with a new one. When you take advantage of our online activation, we can port your current number from any company without you losing any data on your phone.
Our online activation portal will help you submit the information necessary to port your phone number from your previous carrier. If you need a new phone number, we can do that too. We offer free phone numbers on all new activations. You can even change your number after activating if you need. There is no charge or any fees to keep your number or get a new one.
You will need to make sure you have all your account information from your previous carrier and that your bill is current and up to date.
The Best Nationwide Coverage!
Now that you have made the switch to Best Cellular, here is the icing on the cake! Best Cellular uses EVERY tower from EVERY major carrier in the USA. No more dropped or missed calls. No more static or tunnel noises. Just clear quality service wherever you travel Best Cellular can almost always find you the best prepaid wireless coverage in your area.
No matter where you go in the USA, if there is a cell tower from any of the four major US Carriers, we have access to it– giving us the ability to provide you the best-prepaid service nationwide. By having access to the best technology for cell towers, our team of professionals will help you determine which carrier works best in your area.
We will guide you in determining which cell service works best in your area because we want you to have the best quality service available in your area. No matter where you travel, you will always have the strongest signal regardless of where you live or go.
If a customer moves or travels frequently, we can switch you to a different network with a compatible device. With Best Cellular, you can change carriers whenever you feel the need. In fact, you've never had more options for coverage from one company.
Bring Your Own Device Wireless (BYOD Wireless)
Is your phone from another carrier? You can use the same phone you have no matter what carrier you utilized in the past. You can activate your phone from any carrier (BYOP). In fact, we suggest that you keep the same phone you have unless it's just old and outdated. Saving money on your phone bill is what we can help you accomplish.
To do this, you need to purchase a SIM card, and you are ready to roll! Best Cellular not only allows you to keep another carrier's phone, but we also encourage it. Our team is built around value and saving our customers money. By using your current phone is the perfect way to accomplish that!
You will never feel pressure from a salesperson trying to talk you into buying a phone from Best Cellular. Our goal is to make our customers happy, and it that means you are keeping your existing phone and joining our thousands of loyal customers, well, welcome home!
Bring Your Own Phone to Activate on the Best Cellular Nationwide Network!
Here is the bottom line. Our team wants you to get all you deserve from your cellular company. We are working people just like you, and we understand the importance of having a cell company that has your back no matter where you are.
Feel free to bring your own device and activate it online. If you need our help, we are always available to help you pick the perfect plan that fits your needs. Never anymore or any less. Our trained staff will help you choose the right plan, SIM card, or anything else you feel you need.
You will always hear a friendly voice providing excellent customer service, and guaranteed quality cell service. No Contracts, NO credit checks and NEVER any hidden fees.
Best Cellular is a BYOD network that allows you to activate your own phone online or in our retail stores nationwide. There are no hidden fees or extra charges when you pay your bill. It doesn't matter if you pay online, set up auto-pay, call our 24-hour customer service, or visit a local retailer! We are here to help you!
We always recommend keeping business local and supporting your local economy! Visit your local Best Cellular dealer if there's one in your town! Don't settle for less! You deserve the Best!