Bring Your Own Phone / BYOD Activate Online with the new Customer Activation Portal!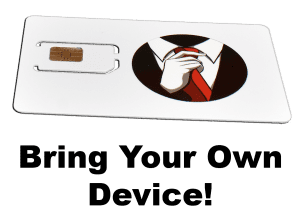 Best Cellular has always allowed customers to activate their own phones (BYOD) online. Now, the new customer activation portal has made BYOD phone activations much easier. Activate your own phone on the best wireless nationwide network!
Best Cellular is a quad-carrier MVNO, using every tower from every major wireless carrier in America. The company is also in the process of launching a worldwide, WiFi priority mVOIP service that will allow customers to use their phone anywhere in the world while connected to WiFi.
Bring your own phone to Best Cellular. Even prepaid wireless dealers are loving the addition of this new customer activation portal because the more customers they gain, the better the plans get!
How to Activate a Phone
Activate your own BYOD phone online with our easy to use customer activation portal. Keep in mind: Almost every 4G phone and many 3G phones need a SIM card to activate. We sell SIM cards in our online store if you need to buy one.
BYOD / Bring Your Own Device Policy
BYOD or BYOP activations simply mean that you're activating your own phone. Our bring your own device policy is very open and we allow any eligible device from any carrier to be activated on our BYOD network. Our Bring Your Own Device Policy does not let phones be activated if they are lost, stolen or financially ineligible.
Bring your own phone
You may have found this page by searching "how to activate my phone online with no contract." We are glad you're here! Best Cellular includes our Bring Your Own Device Policy for customers
What number do you call to activate a phone?
Call our local American customer service number to activate your own phone or buy a new one. Our friendly staff is happy to help, just call us 24/7 at 970-549-2378.
How to Activate an Old Phone Online
/activate/