Can I keep my Verizon phone & enVie Wireless Phone Number?
Best Cellular is offering enVie Mobile customers a free month of phone service as well as a FREE 4G LTE CDMA SIM Card (if needed).
Activate your phone online. If you have a 3G Verizon phone, you won't need a SIM card but if you have a 4G phone, we will even pay the shipping to mail you a free replacement SIM card if you need it! Keep your phone and keep your phone number with no contract on the same Nationwide CDMA network!
H2O Wireless Verizon MVNO, enVie Wireless is Shutting Down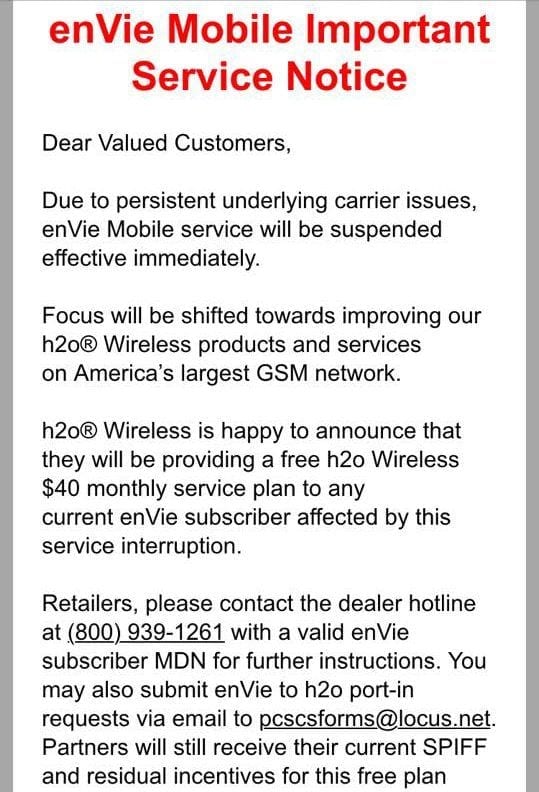 On 03/10/17, most enVie Wireless customers received a message about enVie Wireless Shutting Down without any notice. See the attached screenshot taken from a Verizon smartphone that was active on enVie Wireless.
H2O Wireless (AT&T Based MVNO that owns the enVie Wireless Verizon brand), has offered a free month of service to all their customers who lost service without notice but many customers are not happy because this means they would have to buy another new phone to work on the other service.
Customers found out today that they will lose their service without notice unless they switch to the other (AT&T based) service offered by H20 Wireless or port their phone to another CDMA carrier.
If you want to stay with the old company and have a GSM unlocked phone, you can contact locus.net via email in order to request a port-in. Customers with newer 4G Verizon phones on the H2O Wireless Verizon MVNO can also port over to H2O Wireless' AT&T based plans if they:
Have a phone that is GSM unlocked.
Order a GSM-A SIM Card from the carrier.
Complete the port-request to transfer their service.
Update the APN (access point name) settings in their phone in order to connect to the AT&T based mobile data, MMS/ picture messaging.
enVie Wireless Shutting Down – Can I keep my number?
Good news! Not only can you keep your enVie Wireless number but you may even be able to use your existing enVie SIM Card to activate on Best Cellular (CDMA). If you have a 3G Verizon phone (flip phones, older Android phones, most sliders or candy-bar style phones), you won't even need a SIM card.
Just go online to activate your own phone with Best Cellular and we'll walk you through the rest!
Is H2O Wireless shutting down?
H2O Wireless is a subsidiary of Japan's second largest mobile operator called, "KDDI". The company currently has a reported $6.7 Billion Dollars in working capital and there is nothing to say that H2O Wireless is shutting down. The parent company has been profitable every single quarter for the last ten years so we're not sure what caused enVie Wireless Shutting Down.