Best Cellular coverage in Fruita, CO 81521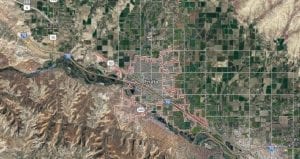 Best Cellular is a nationwide company based in Western Colorado. Our network research team studies coverage maps for different areas and posts about them so everyone can experience the best wireless coverage in their area! After reviewing cell phone coverage in Fruita CO our team has determined the Best Cellular (CDMA) or "Big Red" network is the best in Fruita 81521.
Best Cellular (CDMA) service in Fruita, Colorado
Choose the best prepaid phone company in Fruita. The Best Cellular (CDMA) network provides the strongest and most extensive cell phone coverage in Fruita, Colorado. It covers almost all of 81521, all the way out to the base of the Bookcliffs. The network also covers the south side of the interstate and into the Colorado National Monument. The towers for the Best Cellular (CDMA) network are strategically placed along most interstate routes, which helps customers tremendously when traveling. With our nationwide coverage, your phone will work across the country. You need the best company for prepaid wireless service: Best Cellular.
Best Wireless Service in Western Colorado
Best Cellular is based in Hotchkiss, Colorado and Grand Junction, Colorado. We have many dealers across the nation, but our corporate stores are based in the Western Slope. We strongly support our local businesses and actively take part in events around the valley. Similar to our passion for supporting local businesses, our strongest passion is to provide the best cell phone service in Grand Junction, Fruita, and on the Western Slope. Visit our store in Grand Junction or Hotchkiss to learn more!
Best Cellular Service Across the USA
Best Cellular doesn't just offer prepaid wireless service in Fruita, CO. We also offers coverage nationwide! With four networks to choose from, we help every customer review the coverage from our networks in their area, to make sure they are getting the best service possible. We strive to provide the very best in cellular coverage. If there's an area where you can't find out what the best service is, ask our team for help. We will review the coverage and write up an article like this one for your area. This not only helps you choose the best service, but also everyone in your town! Support your community by submitting a coverage inquiry. Our team will start researching cell signal quality in the area you choose as soon as we receive your inquiry. Our business it providing better service for everyone!
Activate your phone with Best Cellular! You can activate a phone you already own online or in any Best Cellular retail location.