Description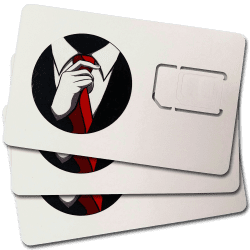 SIMGLT407R is an (End of Life) Sprint SIM Card that is being replaced by SIMGLW226R Sprint SIM Cards.
Purchase Sprint SIMGLT407R SIM Cards (SKU: CZ2103LTR) online. These Sprint SIM Cards are only compatible with Virgin Mobile editions of the Apple iPhone 5 and the HTC Desire 816. If you are looking for a SIM Card for either of these devices, you have come to the right place. PCS SIM Cards only work through certain carriers, so if you are on a Sprint-based MVNO you can use these SIMs. However, please ensure device compatibility before ordering. This SIM Card is NOT guaranteed to work with devices other than those listed on this page. The 760494000015 is a Domestic LTE 4FF removable with USIM.
UPC: 760494000015
SKU: CZ2103LTR
Part: SIMGLT407R
Compatible Devices
Boost Mobile HTC Desire 816
Sprint HTC Desire 816 – Prepaid
Virgin Mobile Apple iPhone 5
Virgin Mobile HTC Desire 816 – Virgin Mobile USA
These SIM cards are listed as "End of Life" by Sprint, which means they are no longer being manufactured. We ask that you call before ordering so we can ensure availability for you. If these cards are not in stock, we may be able to offer a replacement compatible SIM card.
Complete List: UICC Matrix – (All Sprint SIM Card UICC Details)