Description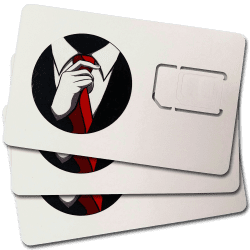 Sprint SIMGLW406TQ SIM Cards (SKU: CZ2104TLWQ) are compatible with the Sprint BLU S1 and Orbic WONDER phones along with LG and Motorola models. This LTE/GSM 4FF SIM OTA ISIM will provide carrier connectivity through Sprint or a Sprint MVNO. Please ensure your device is compatible before ordering. We cannot guarantee that any device other than those listed will fit or function with the SIMGLW406TQ. If you have another phone you would like to use on a Sprint network carrier, please use the UICC Matrix tool to find the correct SIM Card for your device.
UPC: 019962041242
SKU: CZ2104TLWQ
Part: SIMGLW406TQ
Compatible Devices
Boost LG K30
Boost LG Stylo 4
Boost LG Stylo 4+
Boost LG Tribute Dynasty
Boost Motorola E5 Play
Boost Samsung A6
Boost Samsung Galaxy J3 Achieve
Sprint BLU S1 – Vivo S1
Sprint Cat S48c
Sprint LG G7 ThinQ (LMG710PM)
Sprint LG Stylo 4 (Q710AL)
Sprint LG Stylo 4 (Q710UL) BYOD
Sprint LG Tribute DYNASTY
Sprint Microsoft Surface Pro (5th Gen) – BYOD
Sprint Motorola Moto e5 play (XT19215)
Sprint Motorola Moto e5 Plus (XT19248)
Sprint Motorola Moto g6 play – BYOD
Sprint Motorola Moto z3 play (XT19293)
Sprint Motorola Moto Z3 Play (XT19294) (BYOD)
Sprint Orbic Wonder (RC555L)
Sprint Samsung Galaxy J7 Refine – Postpaid & Prepaid
Sprint Samsung Galaxy Note 9 Special Edition (SPH-N960U1)2
Sprint Samsung Galaxy Tab A 8.0 (SPH-T387)
Sprint Sonim XP5s
Sprint Sonim XP8 (XP8800)
Sprint ZTE Blade Max 2s
Virgin Mobile LG Virgin Mobile USA Tribute Dynasty
HP Inc Fibocom L860-GL Embedded Computing Certified 310120 Production
Microsoft Qualcomm MSM8998 SURFACE Chip Embedded Computing Registered 310120 Production
May require RESKU to activate in Sprint Postpaid or Sprint Prepaid.
Sold by Samsung Only (Not Sprint, Verizon, AT&T or T-Mobile). It is a true "Unlocked" phone that can work on all networks with compatible SIM Card. If the model has carrier branding (Verizon, T-Mobile, etc) on the phone, it is not a Special Edition Model and is not supported for activation on Sprint. Internationally Built Phones are not supported on the Sprint Network.
Complete List: UICC Matrix – (All Sprint SIM Card UICC Details)