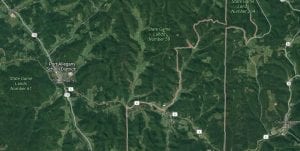 Having continuous wireless service is a must this day and time. Especially in small towns such as Roulette Township, PA 16746. Best Cellular understands this better than anyone. As much as we travel, we know how important reliable cellular coverage is to our customers and us.
Roulette Township, Pennsylvania 16746 with a population of around 1,348 residents, is located in Potter County, Pennsylvania. The same community borders Clara Township and Pleasant Valley to the north, Keating to the south, Eulalia Township to the east, and McKean County just to the West.
Some historians state that originally, "Roulet" was its name until as luck would have it, the Postal Service misspelled it, creating the current name, Roulette. John Sigmund Roulet, the associate of John Keating-  leader of the early settlers, is how the small Township got the name.
Other's claim the Roulette Township, the far western community received its name from a land agent named Jean Roulette. What we do know to be correct is that Roulette runs along U.S. Route 6 between Coudersport and Port Allegany.
With popular places such as "The Friendly Inn," the people of Roulette tend to stick to more family-oriented events that bring locals together; such as The Bowhunter Festival held in August. With a community this size and deep valley in every direction, Best Cellular understands why you need consistent cellular service.
What is the Best Cellular Service in Roulette Township, PA 16746
We want to assure you that Best Cellular doesn't need to push one carrier onto our customers because we offer service for all four major companies. After much research, we are proud to inform you that the "Big Red" carrier offers the best cell service in Roulette Township, Pennsylvania 16746.
Our team also wants you to rest assured when you make the simple switch to our company; you never should worry about losing service due to poor reception ever again. We operate from every tower across the United States.
We also never require a credit check or contract, and you will never find hidden fees with our service. Best Cellular recommends that if you have a current phone you are happy with, that you bring it over with you.
If you are in need of an updated model, we offer plenty through our online sales page. By utilizing our easy-to-navigate website, you can easily order the correct SIM card for your phone, activate your phone service AND port your existing phone number to our service.
We believe in providing stellar cellular service with a "No-fuss" policy. If you do need a new phone number, Best Cellular can offer you the right one best suited for your calling area. To port your existing number, you will need your current carrier information and make sure your bill is up-to-date.
We like our life to be simple. Therefore we make our customer's life simple. If you live near one of our Best Cellular dealerships, be sure to stop in and get to know our friendly staff and let them help you with all your mobile needs.
Make the switch today to Best Cellular and experience why we have thousands of satisfied customers throughout the U.S. We are always friendly, courteous and available to ensure you are never without prime cell service.