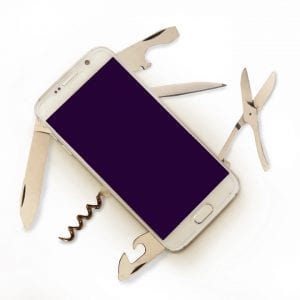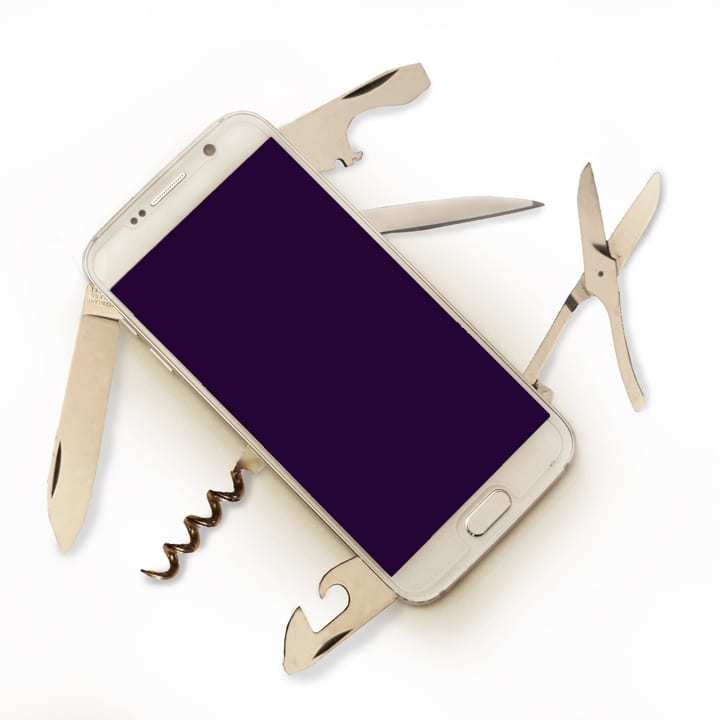 In addition to basic calls and texts, many of us use our cell phones for productivity. They can organize your calendar, keep track of notes, and remind you of important tasks. But there are many other functions and capabilities for your smartphone. Below are just a few of the useful features of these amazing little pocket computers.
Smartphone Sensor Tools
Due to the nature of so many sensors under the hood, your smartphone can actually be quite handy for handyman and fix-it jobs. Whether you're puttering around the house or left a dedicated tool at the shop, these are a few apps to cover your needs.
This is actually a suite of tools designed to assist with physical jobs or measurements. It uses only the sensors built into your phone! However, your phone must come equipped with a magnetic sensor, which does not include phones such as the Samsung Galaxy J7 or Motorola Moto G4. The apps do work online, which is always a plus. Here's a list of everything included:
Smart Ruler – Integrates several protractors, a ruler, and a surface level.
Smart Measure – This nifty smartphone tool uses your camera and a bit of math (trigonometry) to calculate the distance to an object and the object's height.
Sound Meter – Includes a vibrometer for earthquakes or other vibrations along with using your phone microphone to measure ambient sound in dB.
Smart Light – A flashlight is fairly standard, but this tool also includes magnifier and mirror options to help you see better.
Unit Converter – Another handy reference, this app will give you conversions for most units of measurement including currency, distance, and mass.
Smart Tools by EZHIL (Android)
An alternative app suite, this is a similar collection to the one mentioned above. It includes the following:
Flashlight
QR Code/Barcode Scanner
Sound Level
Compass
Speedometer and Pedometer
Level
Scientific Calculator
Various calculators and converters
If you need to send a document quickly, this app uses your camera to scan and optimize your paper copy. You can save and tag documents as images or PDFs, then attach to an email or shoot it over on your company's preferred messaging app.
Automation
Not everyone is looking to automate functions and features, but these apps help you set up tasks to run when you want. It can save you a lot of time and effort with repetitive jobs or those easy-to-forget tasks.
Through Triggers, Actions, and Constraints, the MacroDroid app enables you to automate over 100 items. The developers of this app designed it with beginners and non-programmers in mind, to get you automating as quickly and easily as possible.
Tasker is one of the most popular automating apps on the Play Store. However, it does require a bit of knowledge and experience to work the system. Settings, SMS, and much more can be set up to run when and how you want.
By using a flowchart setup and standardized blocks, you can make Automate chain together any number of tasks. Connect everything from your alarms to your camera.
Personal Productivity
That computer in your purse or pocket can really help you get things done! Check out these apps for doing more in less time.
Like an enhanced bookmarking system, Pocket keeps your articles and web pages for later viewing. It even saves them offline! This app is great for putting together categorized reading lists or just earmarking news to catch up on later.
This app will save your passwords for you and securely store them. You can have it auto-fill form fields through a browser extension or the app on your phone. Includes a password generator feature as well.
An alternative password keeper, this app also syncs cross-platform so you can safely access all of your information where you need it.
Ike To-Do List by Pocket Universe, LLC (Android)
Unlike other to-do apps, this one comes with prioritization built in. Based on Eisenhower's priority matrix, the app makes you choose categories when you add a task so that you can get the most important things done when you need to.
Other Useful Apps
These are a few apps which we couldn't fit into their own category, but you should definitely check out!
Offline Survival Manual by ligi (Android)
You might never need it, but you will want it when you do! This app compiles a lot of useful survival information, covering everything from how to collect water to orienteering. Download this one for when you are truly offline.
We've probably all used the GPS and maps technologies to navigate unfamiliar territory. However, for those of us with a poor memory, there is a whole category of apps that will save your car's location in GPS and help you relocate it if you get lost.
Studies show that extended exposure to blue-spectrum light in the evening is detrimental to your sleep. This app takes care of that by adding a filter to your screen.
Yet another Air BLOwer: YABLO by JogglingDroid (Android)
Just in case you can't sum up the energy to blow out a candle yourself, this app will use your speakers to do it for you. Really.
If you have any other handy apps or tricks you like to use, we want to know! Call us at 970-549-2378 or use the Live Chat box to reach out.