AndroidCentral recently released an article titled, "Which MVNOs work with more than one carrier?" which is a comparison of multi-carrier MVNOs. Best Cellular is proud to be one of only four companies listed as a quad-carrier with the "Big 4" MNOs. Author Jerry Hildenbrand also lays out the benefits of using a multi-carrier cell phone company.
About AndroidCentral
"Android for everyone!" AndroidCentral takes the vast world of the Android ecosystem and helps consumers make informed decisions. A group of industry experts and a highly involved community both curate content that is designed to inform as well as entertain. With such a wide variety of devices running different versions of Android in the marketplace, people are looking for a singular source to compare and contrast their options. AndroidCentral.com offers objective articles and a community forum where users can engage in the conversation themselves. Notably, between the main site, the forum, and their social media channels, AndroidCentral boasts a combined readership of 4.6 Million active users. The Android Central site is just one outlet for Mobile Nations, a tech media company with branches addressing all of the major mobile operating systems.
Android Central Multi-Carrier MVNO List
This particular article addresses an issue that consumers face alongside choosing their handset. Finding the right carrier can make a huge difference in a customer's experience. With many MVNOs charging hidden fees or playing coy about their coverage, making the right decision will include many factors. Accordingly, this article shows you the top MVNOs that use multiple carriers for coverage and which networks they are on. Consumers can use this information to make sure they get on the best network for them.
Jerry Hildenbrand, Senior Editor at AndroidCentral.com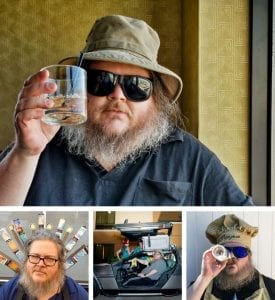 Jerry Hildenbrand is Senior Editor at both AndroidCentral and Mobile Nations. He also writes articles and reviews for Corvallis Gazette-Times, iMore, and VRHeads. After studying Electrical and Electronics Engineering at Purdue University in Indiana, Jerry has done freelance software development and worked as an electronics engineer. Jerry has been working as an authority in the wireless industry since 2010 when he started writing for AndroidCentral.com. Over 800 articles have Jerry's name on them, covering everything from the ins and outs of carriers to reviews of the latest smartphone. From security alerts to rooting your phone, Jerry Hildenbrand keeps the readers at AndroidCentral.com in the know.