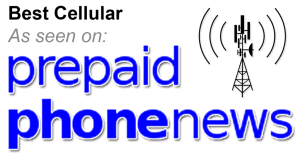 We are very excited to announce that Best Cellular is being featured in Prepaid Phone News! Read their entire article here: Multi-Carrier MVNO Best Cellular Cuts Prices and Increases Data.
Prepaid Phone News covers the US prepaid cellular phone industry in depth, finding the best prepaid carriers, prepaid wireless plans and the best phones for every budget. They track wireless industry changes, new developments, smartphone, and basic phone releases and newsworthy changes in the prepaid wireless arena. We're excited that they chose to feature our Multi-Carrier MVNO in this recent issue!

Featured in Prepaid Phone News
Prepaid Phone News wrote a great article about Best Cellular, focusing primarily on our new rate plans. The article also spoke about our dealer focus on helping prepaid wireless dealers. They also wrote about items of interest to customers such our plan price list and our 24-hour American customer support.
About Prepaid Phone News
This phone news site appears to originally been indexed by Google on Tuesday, January 25, 2011. They have been posting newsworthy content in the prepaid wireless news for over 7 years now. Follow their press releases and news articles to keep up with the latest in prepaid wireless. It's truly an honor to be featured a magazine that's known as the Industry Expert for prepaid wireless news!
PrepaidPhoneNews has recently released articles about:
RingPlus Shutting Down
The Boost Mobile iDEN Shutdown
AT&T Shutting Down 2G Network Sooner Than Planned
Apple Opposing Nebraska's Proposed "Right To Repair" Bill
We're excited that they chose to feature Best Cellular and the positive news about our lower rate plans with more mobile data! Prepaid Phone News is a great website for prepaid wireless news and breaking industry developments!
Mr. Bournique has been writing about the prepaid wireless industry for over a decade and is an expert in all things mobile technology related, especially MVNOs and prepaid wireless. Mr. Bournique is also a developer of Java ME Apps and Games For Basic Phones. He has even created a lightweight web browser from Chinese social networking giant by the name of Tencent.
Christine Torralba

Contributing Editor
Christine covers breaking news and industry changes such as new phone releases, plan updates, pricing changes, acquisitions, and more.