Description
ISIM-KIT-v1 "Universal" Sprint SIM Activation Kits contain a SIMOLW416Q Sprint SIM Card.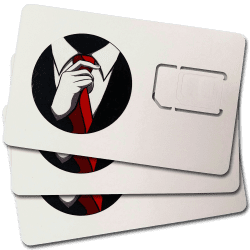 The Sprint ISIM SIM KIT v1 (SKU: 760492035279) is a combined "Universal" SIM kit for use with a large number of devices, Sprint ISIM KIT Version 1 (Supports a newer subset of ISIM based BYOD phones). Altogether we have compiled the most comprehensive list of compatible devices.
Please be sure to check your model against the list provided to ensure fit and function. The Sprint SIM KIT v1 gives PCS network connectivity to many devices. This includes the popular Samsung Galaxy S8, Motorola Moto G4 Plus, and Google Pixel phones along with a host of other devices. The ISIM Kit Version 1 is only for use with Sprint and Sprint-based MVNOs. Please note, although this item is sold as a "kit" it is really just a repackaging of the SIMOLW416Q card.
Physical SIM Card Info in the kit: SKU: CZ4114LWQ | UPC: 854798005125 | Part Number: SIMOLW416Q
UPC: 760492035279
SKU: 760492035279
Part: ISIM-KIT-v1
Compatible Devices For ISIM-KIT-v1
ANS Slate 8 Plus Tablet (AQT82)
Essential Phone (PH-1)
Google Pixel
Google Pixel XL
HTC One A9 (Sprint Version only)
iPad Air (Verizon only)
iPad Air 2
iPad Mini 2 (Verizon only)
iPad Mini 3
iPad Mini 4
iPad Pro
iPhone 5c (Verizon only)
iPhone 5s (Verizon only)
iPhone 6
iPhone 6 Plus
iPhone 6s
iPhone 6s Plus
iPhone 7
iPhone 7 Plus
iPhone 8 Plus
iPhone SE
Moto E4 Plus
Moto G4
Moto G4 Plus
Moto Z2 Play
Motorola X Pure Edition
Nexus 5 (16 & 32GB)
Nexus 5X (all versions)
Nexus 6 (32 & 64 GB)
Nexus 6P (all versions)
Samsung Galaxy J3 Emerge
Samsung Galaxy J7 Perx
Samsung Galaxy Note 7
Samsung Galaxy Note 8
Samsung Galaxy Note 8 Special Edition
Samsung Galaxy S7 edge Special Edition
Samsung Galaxy S7 Special Edition
Samsung Galaxy S8
Samsung Galaxy S8 Special Edition
Samsung Galaxy S8+
Samsung Galaxy S8+ Special Edition
Samsung Galaxy Tab A
Samsung J3 Emerge
ZTE Max XL
ZTE Prestige 2
ZTE Warp Connect
Complete List: UICC Matrix – (All Sprint SIM Card UICC Details)