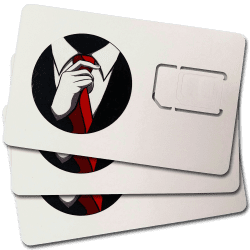 Sprint SIMOLW506C SIM Cards (SKU: CZ410PLWC) are the SIM Cards that are included in the Multi-Punch-CSIM-KIT. These SIM Cards are able to support about 95% of current BYOD handsets on the market. OBR MULTI PUNCH CSIM
UPC: 854798005149
SKU: CZ410PLWC
Part: SIMOLW506C
Compatible Devices
The Multi-Punch-CSIM-KIT supports 95% of current BYOD handsets today including:
Apple iPad Air 2
Apple iPad Mini 3
Apple iPad Mini 4
Apple iPad Pro
Apple iPhone 6
Apple iPhone 6 Plus
Apple iPhone 6s
Apple iPhone 6s Plus
Google Nexus 5X (all variants)
Google Nexus 6
Google Pixel
Google Pixel XL
Google Nexus 5
Google Nexus 6P (all variants)
HTC One A9 (Sprint variant only)
Moto G4 Plus
Motorola X Pure Edition
Samsung Galaxy S7 Edge
Samsung Galaxy S7 Special Edition
Special Edition Moto G4
Sprint SIMOLW506C SIM Card Details
The Subscriber Identity Module (SIM) card enables a phone to connect to the cellular network. These 854798005149 SIM cards are cut based on the supported model, so there is no need to trim these cards. Typically we advise customers to find the correct SIM card for their device before buying a kit. The linked tool below will help you find the exact Sprint SIM for your needs. Please be sure to order the proper SIM, but if you need help let us know! Our Customer Service Representatives are trained to assist you in finding the right product. If any SIM card is out of stock, we may be able to find another one compatible with your device. Additionally, we never use any sort of Personal Unblocking Code (PUK) on our SIMs. They are fully unlocked for use on any carrier through PCS towers.
Complete List: UICC Matrix – (All Sprint SIM Card UICC Details)
Summary
Author Rating
Brand Name
Product Name
Sprint SIMOLW506C SIM Cards
Price
Product Availability