Consumer Cellular is a phone company that caters to the elderly and focuses on selling phone plans for senior citizens, but are their plans really the best option for those customers? Find out below by comparing Consumer Cellular plans with those offered by Best Cellular.
---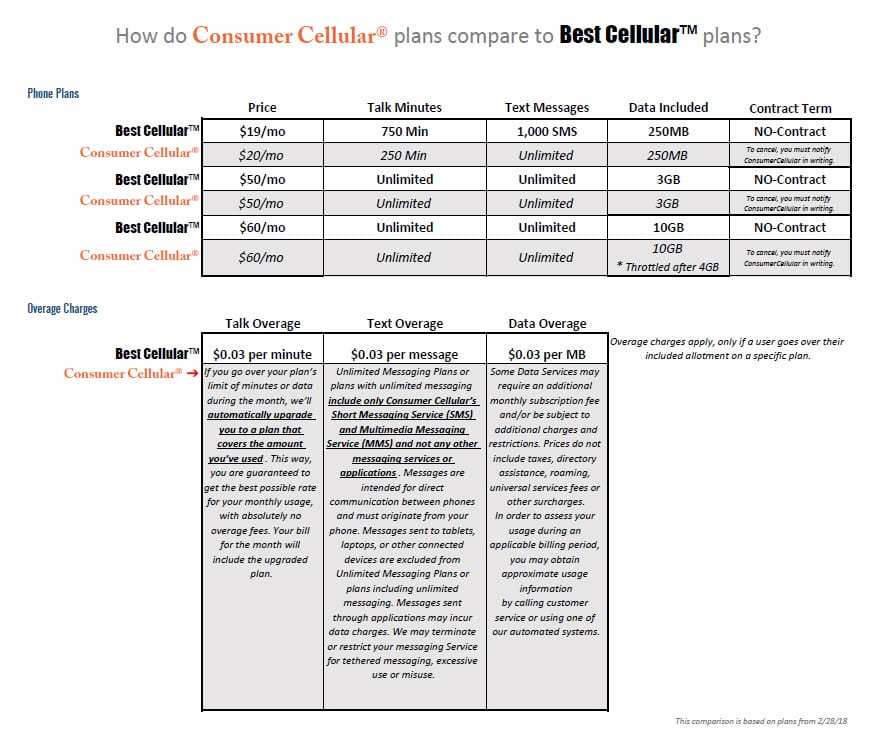 ---
Best Cellular vs. Consumer Cellular Phone Plans for Seniors
As we can see from the breakdown, Best Cellular plans and Consumer Cellular plans are very similar (Best Cellular does offer lower plans, but we decided to use our closest plan for comparison). Take note, Consumer Cellular plans with basic talk, text, and data start at $20.00. Comparable Best Cellular plans start at $19.00.
However, there are things to consider aside from price. For example, Best Cellular has coverage on every tower from every major carrier in the United States, whereas Consumer Cellular only has service on AT&T and T-Mobile towers. Consumer Cellular charges customers an additional $2.00 to access a detailed billing report if you want to actually see what you are being billed for. In contrast, Best Cellular offers these services for free. Best Cellular also offers free voicemail on every plan, while Consumer Cellular states they may disable voicemail on a customers phone if that customer does not activate their voicemail in a given time period.
Is Consumer Cellular Prepaid or Postpaid?
Consumer Celluar advertises that they are a prepaid phone company, although their terms would make it seem otherwise. All of their bills are sent after your month of service and they reserve the right to automatically change your plan if you are using more minutes or data than your plan includes (high users may be surprised by additional charges on their next Consumer Cellular bill). Consumer Cellular seems to be taking advantage of calling themselves a prepaid billing company while using a terms and conditions loophole to bill customers as a postpaid service. Is Consumer Cellular postpaid or prepaid? After reading their legal jargon, we aren't really sure.
About Consumer Cellular
Consumer Cellular is an MVNO based in Oregon. They offer mobile phone service to customers in the United States. They have customer service centers spread out through multiple US cities. Their target market is older customers, especially those who are active AARP Members. Consumer Cellular is an AARP partner, meaning AARP Members can receive special discounts. Consumer Cellular has primarily marketed their company to elderly customers since its inception in 1995.
About Best Cellular
Best Cellular offers multi-carrier coverage while giving our customer the cost-savings of prepaid plans. Our goal is to provide cellular customers with the best quality of coverage as well as customer service. Best Cellular is based in Colorado and uses only customer service representatives located in America. Every time you call Best Cellular, you will get an English-speaking customer service agent. Our customer service reps strive to provide you with the best assistance whether you're looking for a new phone or the best phone service. We believe in the American way and treat our customers accordingly.
Consumer Cellular Alternatives
Best Cellular is one of the top alternatives to Consumer Cellular, and we would love to earn your business. If you have questions or would like to discuss rates, we would love to talk! We are available by phone, email, or SMS. Contact Best Cellular today to get higher-quality phone service for less!