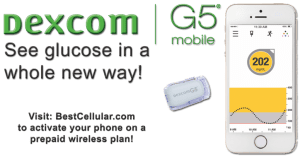 The Dexcom G5 Continuous Glucose Monitor receives and shares glucose readings and warnings with up to 5 smartphones. This FDA-approved device can change the life of a diabetic who has trouble controlling their glucose using traditional finger poke methods. Now, friends and family can help a diabetic monitor their glucose readings using a smartphone. Phone Plans for the Dexcom G5 Continuous Glucose Monitor (CGM) enable remote access. Best Cellular offers Dexcom G5 Phone Plans for parents and caregivers!
What is the Dexcom G5 Continuous Glucose Monitor?
Almost all traditional finger-stick methods for monitoring glucose only give a diabetic an at-the-moment reading. There is no indication of whether the level is rising or dropping, and all they can do is reactively administer insulin when it's already out of hand. The Dexcom G5 Continuous Glucose Monitor aims to change that with their device. Comprised of a sensor, transmitter, and monitor system, the CGM gives real-time analytics for proactive glucose management. Firstly the sensor, placed discreetly on the body, measures constant glucose readings. Next, this connects to a small transmitter that communicates wirelessly to a display device. Finally, the monitoring system displays both instant levels and overall trends. Most importantly, the system works as a whole to give the user a more accurate and relevant picture of their glucose.
Dexcom Mobile App and Dexcom Follow App
Compatible with most iOS and some Android devices, the Dexcom Mobile App and Dexcom Follow App sync with the Dexcom G5 CGM. Most importantly, real-time analytics open the opportunities to make informed decisions and take quick action. Up to 5 devices are supported by Dexcom Follow, which means friends and family don't have to worry about a diabetic in the middle of the night. Alerts come either through the app or a text message.
In addition to mobile apps, Dexcom Clarity accesses Dexcom G5 CGM data through a web-based portal:
Easily compare data from past and present readings.
Another advantage is to identify patterns and responses to external factors such as diet and exercise.
Share data with a healthcare provider so they can make an informed decision for a complete health plan.
The cloud-based platform gives accessibility anytime and anywhere.
Dexcom G5 CGM Availability
Manage both type 1 or type 2 diabetes with the CGM from Dexcom. Medicare currently covers claims with dates of service effective on or after January 12, 2017. Additionally, it is now approved for adults as well as diabetic children over two years old. Parents can easily access their child's monitor readings and graph trends through either a mobile app or Dexcom Clarity. Best Cellular is proud to present prepaid rate plans that give parents and caregivers the ability to remotely obtain glucose information on a cell phone.
Dexcom G5 Phone Plans
Phone Plans for the Dexcom G5 Continuous Glucose Monitor (CGM) provide the mobile data service necessary for constant contact. Families of Americans who suffer from diabetes were overjoyed to hear that the FDA approved the Dexcom G5® Mobile Continuous Glucose Monitoring System. Especially relevant is that it's the first fully mobile continuous glucose monitoring system! Children and adults conveniently monitor and also share their blood glucose levels on a smartphone or optional receiver.