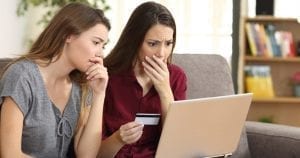 You've seen the ad and you want what they're offering – a bright new device at a low, low price. Who could say no? You might if you knew better.
No More Contracts?
Mobile carriers in the US have recently shied away from using phrases such as "2-year contract" or "long-term commitment." To the unsuspecting consumer, this may sound like a good deal… However, like many "developments" in the wireless industry, this trend is meant to be misleading. Instead of locking you into a contract for service, many carriers will lock customers in with a lengthy payment plan on the device. This way they still guarantee an ongoing profit. That's great for business, but are you really getting a better deal? Let's take a look at what these "no contract" agreements actually contain.
The Fine Print
Direct quotes are included from the fine print at StraightTalkSmartPay.com as of 02/13/18. These may be subject to change at any time. The terms of the example agreement below are typical for these types of offers. Best Cellular is not affiliated in any way with Straight Talk or SmartPay.
Who Really Owns Your Phone?
This is a lease-to-own transaction… Customers will not own the device until all payments are made, but may be able to exercise an early purchase option.
From the moment you receive it until you've paid the full balance, the device you choose to lease is legally not yours. You are under a 15 to 24-month leasing contract. There is one upside though:
Your leased device is covered by the Handset Protection plan during the lease term.

A handset protection plan is included as part of your lease. (A handset protection plan covers damages, but not loss or theft of the device.)
Damage is covered by an insurance plan, but if you lose your phone or it gets stolen, you still owe the remaining balance.
A savvy shopper will notice that there are two separate entities mentioned here – Straight Talk (Owned by Tracfone) and SmartPay.
All leases will be purchased directly from SmartPay Leasing, Inc., an independent company. TracFone Wireless, Inc. is not a party to the lease-to-own transaction.
As you may know, Straight Talk is a Mobile Virtual Network Operator that uses multiple carriers in the US. Straight Talk is owned by Mexican telecom company America Movil. (The same Mexican telecom company that owns Tracfone, Total Wireless, NET10 Wireless, Page Plus Cellular, Telcel America, and SIMPLE Mobile).
Straight Talk is a registered trademark of TracFone Wireless, Inc. 2017, a subsidiary of America Movil.
The other party to these leasing agreements is a financing company called SmartPay. While they are not owned by Straight Talk, we'll look at how their lease terms do require service with Straight Talk.
What About Warranties Or Returns?
If you scroll to the bottom of the page on StraightTalkSmartPay.com, you will see this message:
Orders are processed and fulfilled by Quality One Wireless.
There is nothing irregular about using a third-party for distribution. However, this is something else to note as neither Straight Talk nor SmartPay are physically processing any shipments or returns. Quality One is based in Florida.
If you are a Straight Talk Plus or Net10 (online) customer, we suggest contacting the retailer for warranty-related concerns first.
In other words, you may get the runaround when you attempt to get a warranty replacement. If you do decide to use this type of phone financing agreement, we recommend having all three contact numbers on hand.
We'll look at the total cost in a moment, but the main point to remember here is that you are under obligation to SmartPay (and therefore Straight Talk) until the full amount is paid. "Your phone" isn't actually yours…yet.
Is this Available to Me?
For customers eligible under credit score path… For no credit score path, FICO score will not be used to determine eligibility, but credit information and consumer reports will still be reviewed. Approval not guaranteed.
Phone financing requires a credit check against your FICO score to determine the level of financing available. Many customers choose phone financing when they can't afford a premium device upfront. Unfortunately, the total cost paid will be substantially higher and must be completed within 15-24 months.
The True Cost Of Financing A Phone
…the total cost of Google Pixel 2 XL LTE shall be $1107.05 divided into 24 30-day payments of $46.13, plus any taxes and applicable fees.

For customers eligible under no credit score path, the total cost of Google Pixel 2 XL LTE shall be $1729.22 divided into 15 30-day payments of $115.80, plus any taxes and applicable fees. Final payment may be more in North Carolina.
The example phone we chose is the Google Pixel 2 XL, which Verizon Wireless and other vendors list as $849.99 retail. (Although SmartPay lists the MSRP as $100 higher)
Retail cost of Google Pixel 2 XL LTE is 949.00, but is subject to change. The customer may end the lease and return their phone at anytime.
Let's Do The Math For These Payment Terms…
15-month (Low or No Credit Score)
Payments of $115.80 a month
Total of $1729.22
You pay more than DOUBLE the retail price of the phone! (203% to be exact).
24-month (High Credit Score)
Payments of $46.13 a month
Total of $1107.05
You pay 130% of retail price for the phone.
There's Another Catch
So here's the real question: Are these financing plans really different than a contract?
Wireless service with Straight Talk Wireless is required and is additional. You will be required to use the new SIM card included with your new phone and you can keep or port your existing number. If you're an existing Straight Talk customer and have remaining service days on an existing plan, your new service plan will automatically be added when your existing plan expires. Wireless service is subject to Straight Talk Wireless Terms and Conditions.

Lease-to-own requires a Straight Talk 30-Day Unlimited plan and is additional.
After 30 minutes on the line with outsourced SmartPay customer service, we finally received an explanation of these terms. The representative stated that a plan with Straight Talk is not required upon registration for the lease. However, immediately after signing the agreement, you will be set up with an autopay program to ensure service through Straight Talk (she recommended purchasing a plan through them ahead of time to keep your number). The service must be active for the entire length of the lease, right up until 2 days before it ends.
In this way, customers are obligated to stay with Straight Talk for 2 years (or 15 months, depending on credit approval). That's the standard length of a postpaid wireless contract.
Also note, there are some states where this program simply is not available. There was no information on the site about this.
Not available in MN, NJ, WI, and WY.
A phone call to the SmartPay number listed on the site did not reveal further details, other than the rep telling us that, "some states have laws preventing the ownership of the devices." When asked for clarification, the rep on the other end stated that you can buy the phone, but not own it in those states.
The truth is: States like Minnesota, New Jersey, Wisconsin, and Wyoming have usury laws protecting consumers from loans with abusive or excessive interest rates.
Conclusion
If you want to use a new phone, but don't have the money to pay for it upfront, leasing gives you the ability to have it now and pay for it later at an extremely high-interest rate. In addition, keep in mind that you are locked into service with a specific carrier, effectively giving you a contract for the entire length of the lease. And remember, that phone is not yours until it's paid off. After reviewing the details, you may want to shop around for other options when purchasing a phone.