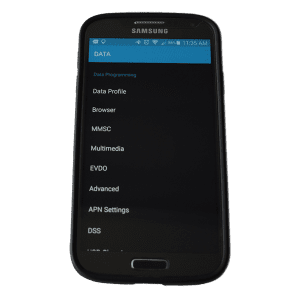 Access Point Name (APN) is the term used to describe the settings a cellular device needs in order to communicate with your carrier's mobile data network. Access Point Name settings allow your phone to send or receive MMS or use Mobile Data.
How Do I Change The APN Settings / Access Point Name Settings?
Some phones allow you to edit the default Access Point Name while others require you to create a new APN. Prepaid wireless networks use different Access Point Names, depending on which carrier the MVNO uses. Below, we will explain about the Access Point Name settings for every major carrier on the Best Cellular nationwide network.
Some carriers send their Access Point Name settings as an OTA (over the air) update when you activate a phone. Some carriers embed their Access Point Name settings into their SIM cards. Other carriers require you to program the device manually after activating your phone on their network.
Open the links below to view specific settings for your device.
---
Configuring the APN settings for CDMA phones is very simple. Click the link above to see the installation guide. This will help you install the correct Access Point Names for your Verizon phone! Best Cellular allows BYOD activations on the CDMA nationwide network. We have the Access Point Name settings saved so others can easily access them to program CDMA / Verizon devices. Install CDMA Access Point Name settings over-the-air (OTA) automatically! Please note, installing a CDMA APN will require data. Always make sure to connect to WiFi when activating your phone!
---
Many prepaid companies require GSM-T Access Point Name settings to be manually installed. You can navigate to your phones settings to edit your APN (or add new). We provide the settings to install the Access Point Name for your T-Mobile or unlocked GSM phone. There's no guesswork for our customers. Follow the steps we have provided in the link above. You will be on your way to activating your GSM-T phone! Many phones receive automatic OTA configuration updates simply by installing our GSM-T SIM Card into the device.
---
The APN Settings for the PCS Network can be installed over-the-air or manually. Most Sprint phones receive these as an OTA update once the phone has been activated. The APN needs to be installed exactly as it is listed in the link above. Otherwise, your phone will not be able to send MMS, receive MMS, or utilize mobile data. It is often not necessary to mess with these settings when activating a Sprint phone. Everything happens automatically (in most cases). Want to manually edit your PCS APN settings? We have provided the instructions to manually install the Access Point Name for your PCS device.
---
Buy a phone from us online and we will activate and configure your phone for free. Contact us for help if you want to configure your own phone.