Reasons to Open a Wireless Retail Store with Best Cellular
If you would like to open a wireless retail store (or if you own an existing prepaid cellular store), Best Cellular is offering an industry-first change to the existing prepaid wireless retail business model!
One of the cool things Best Cellular is changing about the wireless industry is the way retail stores are paid.  For as long as there have been prepaid wireless stores and MVNOs, there have been Master Agents between the MVNO and the retailer.  The Master Agent is typically in charge of recruiting new cellular retailers. In exchange for finding a new retailer, the Master Agent makes a large commission for every cellular customer activated by a retailer.
The Master Agent also makes a large monthly commission on every phone bill processed by the retail store and passes a small portion of their commission down to the retail store.  This would be fine if the master agent was helping the retail store with training, etc..  The problem is that many master agents are there to sign up the wireless retailer and simply collect the profit on every customer, without ever providing support to the dealer.
Open a Wireless Retail Store
This is the first of many videos for existing wireless retailers or prospective cellular dealers who are considering opening a prepaid wireless store.
Best Cellular is a new prepaid wireless MVNO, which allows dealers to open a wireless retail store with very little overhead and a much faster learning curve than traditional prepaid wireless stores.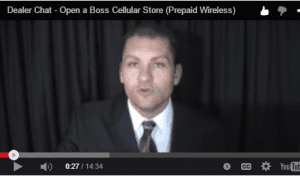 Best Cellular allows each prepaid wireless retailer to become their own master agent and open a wireless retail store, where they keep the entire 15% commission on every single payment processed at their store.  Best Cellular pays cellular retailers an instant commission and doesn't make them wait for weeks or even months to get a commission check.