You have many options to choose from when searching for the Best Prepaid Wireless Company.  We understand that you have lots of choices when it comes to selecting a phone company.  Competition is a good thing!  Our entire goal is to provide the best no contract prepaid plans at the best prices possible!  We are currently one of the top cellphone companies with American customer service.  When you need help you can speak to a live, local agent – 24 hours per day!
Best Prepaid Cellular Phones from the Best Prepaid Cellular Company
Order the best prepaid phones online from Best Cellular and we can dropship directly to your home or business.  Order a new phone or a refurbished phone online and one of our customer service reps can activate the phone for you before we even mail it to you!  We're confident you'll tell your friends that we're the best prepaid cellular company after doing business with us!  Shop for cool new phones that fit your needs and budget!  We offer a huge online phone store to let you find the phone you want!  Best Cellular offers some of the most popular prepaid cellular phones in the United States with no contract, no credit check and no gimmicks!
Best Prepaid Wireless Company
Activate your existing phone from another carrier on what many are calling the best prepaid wireless company in America.  We don't charge hidden fees and we don't penalize you for buying a phone somewhere else.  Because we have access to every major carrier in America, you can connect to the best prepaid cellular company even if you bought your phone from another company!  We let you activate the best prepaid phones as well as postpaid phones on our network without locking you into a contract!
Best Prepaid Wireless Coverage and the Best Prepaid Phones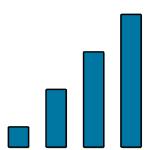 Check our free wireless coverage tool to see what network offers the best service in your area!  Often, when you look at a carriers coverage maps, it's hard to tell if the map is accurate or if it's simply a pretty picture drawn by a graphic artist.  Coverage maps that don't show real signal measurements are simply advertising tools.  When you use our wireless coverage map tool, it allows you to find an unbiased map of the Best Prepaid Wireless Coverage because it's a true map of all wireless carriers in your area.
If our company only had access to a single network, we couldn't honestly call ourselves the "Best Cellular Service".  When you walk into a Best Cellular store, it is our employee's job to help you find the best wireless coverage in your area!  Because we offer service on all the towers, we don't lose you as a customer if one carrier is stronger in a certain area…  We just connect you to the strongest carrier!