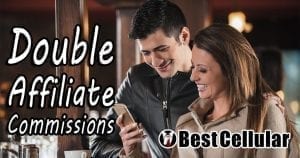 Shortly after announcing that Best Cellular is offering double mobile data on plans, we are also upgrading to offer double affiliate commissions! We offer these higher affiliate payouts for both new and existing affiliates.
Prepaid Wireless Plan Affiliate Program
When we launched the Best Cellular affiliate program, affiliates only earned commissions on physical goods. This included cell phones, accessories, and signal boosters, but not plans. Now that all changes! Affiliates earn commissions on any product purchased through our site including plans, cash cards, and even International Long Distance.
Double Affiliate Commissions
In addition to the increased eligible products, we have decided to introduce double commissions. In the past, our prepaid wireless affiliate program only offered 5% commissions on tangible goods. Starting December 18th, 2017 affiliate commissions have increased to 10%! This means that any product sold through an eligible affiliate link will earn double our previous commission. These double affiliate commission rates apply to all prepaid wireless plans. Many online customers will be shopping for our improved rate plans, and our affiliates can share in the sales. Between the improved products and double commissions, our affiliates can earn more than ever before!
What About Existing Affiliates?
Current Best Cellular affiliates will be pleasantly surprised. Unpaid commission earnings have doubled as well! (Ex: If you already earned $500 USD this month, we will double your earnings to $1,000 USD). We appreciate all of the members of our affiliate program, and we work to pass on increased earnings in any way we can.
How Do I Become An Affiliate?
It's easy to join the Best Cellular Affiliate Program, and these new updates make it better than ever. We give new members a customized link code which they can use with any of the products on our site. Our 90-day affiliate tracking cookies make sure you get paid for each and every sale you refer. (That means we pay you whether someone takes 3-seconds or 3-months to make a purchase!) Minimum payouts are only $10, so Best Cellular Affiliates can cash out quickly and easily.
Affiliate Program Highlights
10% affiliate commissions
90-day tracking cookies
Low, $10 minimum payout
Earn affiliate commissions on prepaid plans, cell phones, accessories, SIM Cards, signal boosters, cash cards and even International Long Distance!